Nestled within La Boheme, in the heart of the vibrant and eclectic community of North Park is Avant Garde Waxery, a haven for beauty and relaxation. Owned by passionate and warm-hearted certified Esthetician Paige, this business has been a part of North Park's fabric since its inception in 2017.
Paige's love affair with North Park began when she decided to open Avant Garde Waxery. She found herself enchanted by North Park's vibrant atmosphere. "It's such a fun, exciting neighborhood where everyone comes to have fun," Paige explains. North Park's sense of community and the opportunity it presented were irresistible to her. She was drawn to the community and felt an immediate connection. It wasn't just about business; it was about finding a space that resonated with her deeply.

Avant Garde Waxery was born in the heart of La Boheme, where she could offer her unique brand of aesthetic services in a setting that felt welcoming and special.
With her location locked in, she needed to find a name that connected her space, her personality, and her vision. Choosing a name for her business was a thoughtful process, and one that many entrepreneurs fret over (just ask any of North Park's local business owners about their name) Paige wanted something unique that captured her personality and her specialty. The name "Avant Garde" had always been something that resonated with her throughout her journey in life. Avant Garde means artistically out of the norm, something unique and unconventional, which perfectly encapsulates Paige's vision for her business. She aimed to create a space that was both extraordinary and inviting.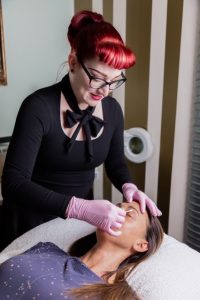 Paige's journey into aesthetics was not her first foray into the beauty industry. She began as a makeup artist, working for a decade before realizing she craved more. Her passion for skincare led her to become an aesthetician, and she fell in love with the profession. Paige attended the California Hair Design Academy in La Mesa, honing her skills and preparing to embark on her dream of owning her own space.
Over her 13-year career as an aesthetician, Paige has witnessed numerous advancements in treatments and technologies. The beauty industry is dynamic, always evolving, and adapting to the changing needs of its clients. COVID-19 brought its own set of challenges, disrupting the industry, but small businesses like Avant Garde Waxery showed resilience and adaptability. Paige continues to incorporate these advancements by staying up-to-date through education and field trips to other businesses.
Building her business takes a lot more than skill and experience. For Paige, she has built her business off the core values of honesty and integrity. She believes these values resonate with the North Park community, where businesses thrive on personal connections and authenticity. Building trust is essential in an industry where clients often seek vulnerable, intimate services, and Paige's commitment to creating a safe, welcoming space for her clients shines through. "I honestly feel these relationships form organically, through sharing our lives with each other; with physical touch and care comes a special trust. My clients joke that our sessions are like therapy" says Paige.
Clients of Avant Garde Waxery echo those same remarks and praise Paige for being warm, gentle, easy to talk to, caring, and efficient. They consistently laud her services as the best they've ever had. The reviews reflect the strong bonds Paige forms with her clients and the exceptional service she provides.
One unexpected joy Paige has found in her profession is the deep friendships she has formed with her clients. The support and care they have shown her have been heartwarming and have left a lasting impact. Paige feels blessed to have her clients become an extended family, making her journey even more fulfilling. A very touching example is displayed on my wall of vintage hand mirrors. "A dear client gifted me a gorgeous mirror that belonged to her mother, which she remembered fondly of playing with as a child, and wanted it appreciated. I adore it the most and love telling people the story."
Creating a safe and comfortable environment for her clients is a priority for Paige. From the ambiance to the amenities, every detail is meticulously designed to ensure clients feel at ease. Soft towels, soothing scents, and open communication contribute to the welcoming atmosphere of Avant Garde Waxery.
As a small business owner in North Park, Paige wears many hats. Her organizational skills have been instrumental in navigating the complexities of running a business. Learning from fellow aestheticians and engaging with the community has been essential to her success. Paige advises aspiring aestheticians to immerse themselves in the community, learn from others, and experience the services they intend to provide.
Paige has witnessed North Park's growth and transformation. Despite the challenges posed by the pandemic, the community rallied around each other, offering support and solidarity. North Park's resilience and support for small businesses like Avant Garde Waxery highlight its vibrant and dynamic nature.

Paige's journey with Avant Garde Waxery is a testament to the power of passion, authenticity, and community. In the heart of North Park, her business has not only thrived but also become a cherished part of the community. Avant Garde Waxery is a shining example of how a small business can shape and be shaped by its neighborhood, creating a sense of belonging and shared experiences that define North Park's unique character. Schedule your appointment with Paige at Avant Garde Waxery. You will be in great hands!