Tickets are Sold Out.
 No day of ticket sales will be available.
Take a self guided tour of North Park and sample food from 31 restaurants and sip beverages from 14 breweries.
Home to culinary innovation and cutting-edge brew-masters, North Park is a go-to San Diego destination for everything food, drink, and the arts. On Saturday, October 8th, from 11AM to 3PM, the Taste of North Park invites culinary enthusiasts to enjoy 31 food tastes and 14 craft beer/craft cider sips from North Park's best restaurants and breweries while exploring the sites and sounds of this eclectic North Park neighborhood.
Experience a fun-filled day of culinary delights, Craft Beer, Craft Cider, Kombucha, and shopping at our boutiques, all set to live art and live music throughout North Park.
FAQ:
Are there Vegan and Vegetarian options?
Yes, to be determined by the restaurant.
Do I need to be 21?
Yes, if you are going to "Taste" beer. A wristband will be given at the event check-in once ID is checked.
Is the event family-friendly?
Yes! And such a fun day walking and exploring North Park.
Will call location: Pick up your Tasting Ticket at the "NEW" North Park Mini Park on the day of event starting at 10:30am.
Parking: North Park Parking Garage has plenty of day of parking located directly across from the will-call location on 29th and University.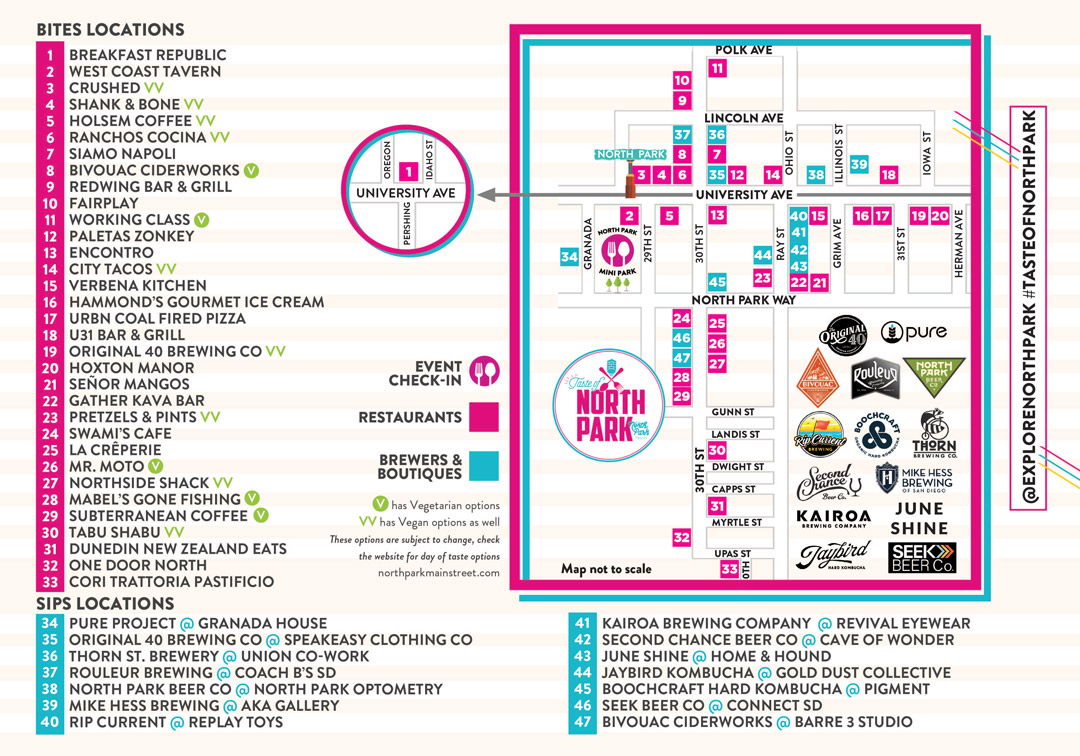 San Diego, CA – Aug. 22, 2022 – One of San Diego's most vibrant culinary neighborhoods is once again inviting diners to sample the best of the best of its food and drink offerings at the Taste of North Park 2022 benefiting North Park Main Street.
Participating Restaurants & Brewers
Bivouac Ciderworks
Boochcraft Hard Kombucha
Breakfast Republic North Park
City Tacos North Park
Cori Trattoria Pastificio
Crushed
Dunedin New Zealand Eats
Encontro
Fairplay
Gather Kava Bar
Hammond's Gourmet Ice Cream
Holsem Coffee
Hoxton Manor
Jaybird Kombucha
JuneShine
Kairoa Brewing Company
Mabel's Gone Fishing
Mike Hess Brewing
Mr. Moto Pizza
North Park Beer Company
Northside Shack
One Door North
Original 40 Brewing Co
Paletas Zonkey
Pretzels & Pints
Pure Project
Ranchos Cocina
Redwing Bar & Grill
Rip Current Brewing North Park
Rouleur Brewing
Second Chance Beer Company
SEEK Beer Co.
Shank & Bone
Siamo Napoli
Subterranean Coffee
Swami's Cafe
Tabu Shabu
Thorn Brewing Company
U31 Bar & Grill
Urbn Coal Fired Pizza
West Coast Tavern
Working Class
Thank you to our Taste of North Park Sponsors