North Park Thursday Market
EVERY THURSDAY FROM 3:00PM TO 7:30PM RAIN OR SHINE!
If you haven't been to the North Park Thursday Market, you have been missing out on a great community event. The North Park Thursday Market has everything from farm fresh fruits and vegetables, eggs, cheese, fresh fish, dips & sauces, yogurts, baked goods, bread, fresh flowers, hot foods, local crafts, and everything you need to stock a healthy home. It's similar to what you would find in your local grocery store but you are supporting local businesses and your community. We have activities for kids, live music and much more. It is centrally located in the heart of San Diego.
We have over 50 vendors in our market. The North Park Thursday Market is Thursdays from 3:00pm – 7:30pm, rain or shine. In March 2022 we expanded our market to include North Park Way between Ray Street to Granada with fun activities happening at the North Park Mini Park.
Parking is easy. The North Park Parking Garage is $1/hr. Enter off of University Avenue and 29th Street. Or better yet, ride your bike along he 30th Street bike lane. There is plenty to see and do in North Park. Take the evening to check out the surrounding shops and make an evening of fun with friends and family in North Park!
Become a Vendor
Interested in vending at our market? Click below to start your application.
Frequently Asked Questions
How has North Park Thursday Market adjusted to COVID-19 health and safety standards?
North Park Thursday Market is in full compliance of current city of San Diego orders. Face masks are now optional at outdoor farmers markets in California. Please subscribe to our weekly NPMS newsletter for continuing updates.
Can I bring my pet to the market?
CalCode guidelines prohibit pets at farmers' markets. We never restrict legitimate service animals, of course.
Can I use my credit or debit card at the market?
Yes, most farmers and vendors accept credit, debit and sometimes contactless cards. If using cash, please bring small bills so you can pay exact change if possible.
Is there parking at North Park Thursday Market?
We have a huge near by parking garage available. You may also find neighborhood metered and unmetered parking.
It's raining in my neighborhood – will the market be open?
North Park Thursday Market operates rain or shine, just like your local grocery stores!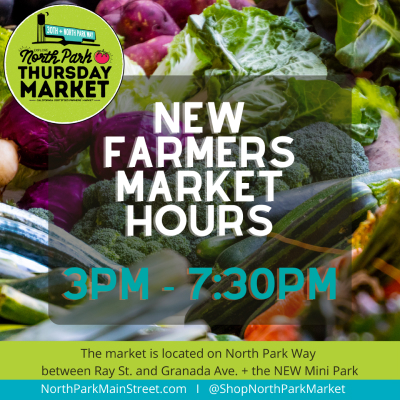 When
Every Thursday, rain or shine, from 3:00 – 7:30 pm.
Where
Located on North Park Way between Ray St. and Granada Ave. + the NEW Mini Park
Contact Us
Email: [email protected]
Follow us on Instagram! @shopnorthparkmarket
Like us on Facebook! @NorthParkMarket
The North Park Thursday Market is brought to you by North Park Main Street