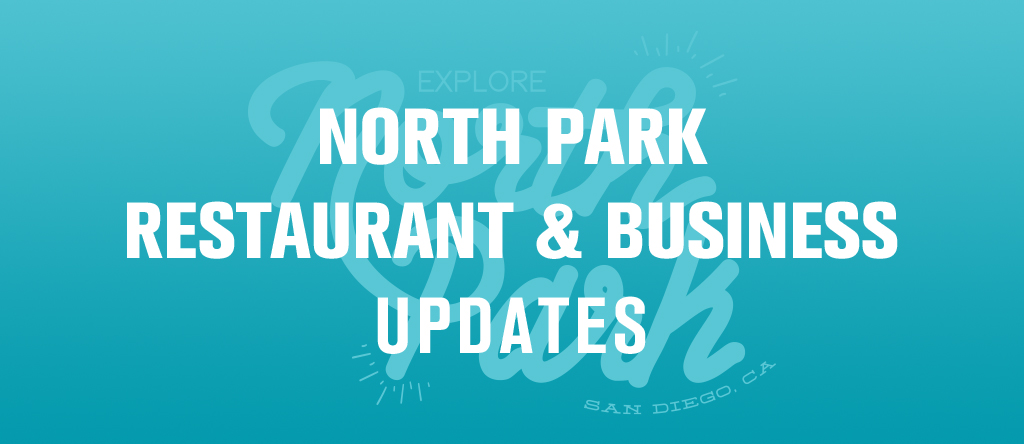 Many of our community members have been impacted by the restaurant and bar closures throughout the neighborhood. The service industry is the heart and soul of North Park, and we want our local businesses and their employees to stay afloat during these tough times as much as possible. However, the health and happiness of customers is of highest priority to our restaurants. Many of our restaurants are offering carry-out and delivery services, as well as curbside service in order to create social distance. Please continue to support your local businesses by using online delivery services, ordering carry-out, purchasing online gift cards and more.
List updated as of 4:30PM on 4/9/2020 as the offerings change daily, we are doing our best to keep this page updated.
We have created a Facebook note page that will be updated in real-time as changes are made available to us, please click here to visit that page.
Restaurants offering carryout and delivery:
619 Spirits
To-go bottles (limit 3), Take Out, & Delivery, To-go cocktails with Carry-out food purchases | New merchandise available for sale | 619.269.2757
Aburi Sushi
Happy hour to-go: everyday, 4pm- 7pm | 619.8927210
Atypical Waffle
Tuesday-Sunday 8am – 1pm | Online ordering; carry-out; Postmates | 619-806-0345
The Barbecue Pit
Open for take out. | (619) 298-2400
Belgian Beer & Waffle
9am – 3pm daily | Postmates and carry-out orders, curbside service available. | 619-310-5716
Bivouac Cider
(Hours and specials are updated regularly) Everyday: open for cider sales | Thursday-Sunday: food and all drinks are available. Thursday: 3pm-7pm | Friday: 2pm – 7pm (happy hour special: charcuterie and cider) | Saturday BACKYARD BBQ TO-GO: will be grilling food out front available for pick up | Sunday: 1pm – 6pm. | 619-725-0844

Bottlecraft North Park
12pm – 9pm | Call-in orders, curbside service, and Postmates orders. 619-501-1177

Breakfast Republic
Open daily 7am – 3pm | Walk-in & Call-in orders | 619-642-0299

Caffe Calabria
7am-8pm | Coffee + Pizza for takeout (pizza starts at 11am) |619-683-7787

California Taproom
1pm – 6pm | Take Out Only | Purchase of 2+ pretzels – 10% off | New merchandise available for sale | 619-230-5353

City Tacos
Closed, but customers can donate to this link in their instagram bio to help support employees.
Classic Rock Sandwich Shoppe
Tuesday-Sunday 11:30am-5pm | Pickup, Uber Eats, DoorDash, GrubHub | 619-692-1969

Crazee Burger
To-go orders 619-282-6044 | Postmates or take-in app for ordering

Communal Coffee
Open 8AM – 2PM Daily | Take out drinks & breakfast menu | Order in shop or mobile order through link in profile | (619)363-7737
Craft House
Our new hours will be: Tues – Thursday 2pm -8pm; Friday – Saturday 12pm -8pm; Sunday 12pm – 6pm (until further notice) *30% off all phone & take-out orders | (619) 255-1151
Cori Pastificio Trattoria
Open 4pm- 8:30pm | delivery available on Grubhub. Now offering to-go Family Style Dinner Combos: call ahead, order on their website, or via email [email protected] | (619) 573-6159
Dark Horse Coffee
Monday, Wednesday, Friday 8am-12pm | Whole bean coffee pick-ups & Pre-Packed 1/2 Dozen Vegan Donut Boxes available from 8am – 12pm (while supplies last) | 619-344-6962

Deja Brew Lounge
7:30am – 3pm | Takeout Only | #619-230-5224

Dunedin
11am-8pm | Pickup & Delivery | (619) 255-8566

El Comal Antojitos Bar & Grill
Open regular business hours | Takeout Only | 619-294-8292
Fat Boy's Deli & Spirits
Takeout and Delivery on DoorDash, Grubhub, Uber Eats, & Postmates | 619-683-3902
Figaro Desserts
Takeout and Delivery on UberEats, Postmates, & Grubhub 619-241-2976
Florence Ristorante Pizza
10am – 3am | 10% off online orders 619-325-7499
Golden Donut
5am – 8pm | Takeout only
Hammond's Ice Cream
Open for takeout (delivery coming soon), with limited days and hours of service. | Wednesday thru Sunday from 1pm to 8pm.
Holsem Coffee
8am-2pm Daily | Local delivery within 3 miles of the cafe with no minimum order. Order coffee, pastries and even whole beans. Go to holsemcoffee.com, hit 'order online' then select menu>delivery option
Holy Matcha
9AM to 5PM | Carry-out orders, Postmates, Uber Eats

Lefty's Chicago Pizzaria
12pm-8pm | Takeout and Delivery | (619) 295-1720

Louisiana Purchase
Tuesday – Sunday 12pm-5pm | DoorDash, Call ahead & Carry Out, Curbside service available | 619-255-8278

Lucha Libre Gourmet Taco Shop
11am – 9pm | Carry-out, Uber Eats, Doordash, GrubHub, and Postmates | 619-487-1520

Mike Hess Brewing
Everyday 12-8 PM | Cans, growlers, kegs, and merch available for takeout (please call 10 minutes ahead) | Now selling hand sanitizer! 619-255-7136
Modern Times Beer Co
12pm-6pm | Beer to-go (by appointment only) and beer shipments | For instructions, visit their website or call | (619) 269-5222
Mr. Moto Pizza House
12PM – 6PM | Carry-out and delivery only | (619) 642-0788

North Park Beer Co.
Taproom hours: Monday-Thursday: 12:30pm-7:30pm, Friday and Saturdays: 12pm-9pm, Sunday: 12pm-6pm | Pickup, delivery, and shipping on cans, crowlers, and growlers (now until 9pm on Fri & Sat!)(619) 255-2946
North Park Diner
7AM-9PM | Breakfast, Lunch and Dinner all day | Get it to-go Breakfast (619) 294-3804
Original 40 Brewing
1pm – 6:30pm | Food & Beer for pickup only | 619-255-7380
One Door North
Takeout & delivery from Grub Hub available with a limited food & drink menu. Click for our take away menu | 619-618-1285
Panchitas Kitchen and Bakery
OPEN for Take-Out from front door or Drive-thru, call in orders welcome | Monday – Saturday 7am – 9pm, Sunday 8am – 3pm | 619-255-5498
Parabola Coffee Roasting Co.
To-go beverages only | Free delivery on coffee beans to our San Diego neighbors| 760-587-9086

Pete's Seafood and Sandwich
11am-8pm | Takeout, delivery, and curbside pickup 619-255-8940
Poki One N Half
Monday-Sunday 11am – 9pm | Online ordering; carry-out, pick-up, delivery; DoorDash, ChowNow | (619) 497-0697
Rancho's Cocina
Mon- Fri: 12pm- 9pm; Sat & Sun 10am- 9pm | Curbside pickup or free delivery | Wine, Beer, Sangrias and margaritas also available to go (619) 574-1288
Rip Current Brewing Co.
Tues, Fri, & Sat 2pm – 6pm | Call ahead or order online using this link 619-793-4777
Saguaro's Mexican Restaurant
Open for drive-thru and take-out orders; also offering delivery through Uber Eats & DoorDash: 6am- 12am. | 619-291-7746
Saiko Sushi
Offering a Social Distance Menu, as well as sake by the bottle, from 4-8pm. Saiko will be open starting Wednesday 4/08 @ 4pm. check their IG daily for menu and hours | 619-677-3907
Second Chance Beer Co.
1-7pm weekdays, 12-7pm weekends | To-go and delivery | Home Delivery Tues, Thurs, Sat 10am-Noon619-487-1470
Siamo Napoli
Monday-Sunday 4pm-9:30pm | Pick-up or delivery through UberEats 619-310-6981
Sicillian Thing Pizza
Open for take-out and delivery | 619-282-3000
SipZ
Open for take-out everyday 4-9pm | Pick up or delivery through GrubHub & UberEats 619-795-2889

The Smoking Goat
Curbside Pickup & Delivery | Online Ordering click here | 619-955-5295

SOI 30th North Park Thai Eatery
Regular Hours | Takeout and delivery apps (Postsmates, GrubHub, Uber Eats, and Doordash) | 619-892-7300
Splash Wine
Offering to-go bottles & limited food for takeout, curbside pickup or delivery. | Open daily from 12-8pm. | (619) 354-9379 or order online!
Street Side Thai
Mon – Fri 11am – 9pm, Sun 3pm-9pm | Take out and delivery through Grubhub, UberEats, DoorDash | 619-228-9208

Streetcar Merchants
11:30am – 9pm | Curbside pickup, Grubhub, Postmates, UberEATS, DoorDash, & Seamless | 629-546-9010

Subterranean Coffee
7am-4pm | Takeout and delivery | Call or text or Text 619-259-9596. Serving all of San Diego , Chula Vista and North county| Grubhub, self delivery, and curbside service
Swami's Cafe
Phone and takeout orders, delivery (GrubHub and Doordash) | 619-269-3797
Tabu Shabu
Offering contactless- Take Out Meal Kits! | Call 619-408-0369 to place your pickup orders between 2pm-5pm, Thursday- Sunday. | Pickup your orders between 4pm-7pm, Thursday-Sunday- call us once you arrive and we can bring it out to you!
The Taco Stand
Open usual hours for take-out only. | 619-795-8797
Thai Time North Park
Open for take-out and delivery through Postmates and Doordash. | 619-282-1060

Toronado
Open for pick-up; must sign-up for a time slot to come pick up. Click here to sign up. | 619-282-1060
Tribute Pizza
Monday – Saturday 1pm-8pm + Sunday 1pm-7pm | Takeout and delivery 619-450-4504
Twist
Open usual hours for take-out only. Delivery available via DoorDash, Uber Eats, Postmates, or GrubHub 619-260-1813
Underbelly
Take-out only | 619.487.9909

URBN Pizza
12pm-10pm Daily | DIY pizza kits, full menu & to go beverages available for takeout and Postmates Delivery | 619-255-7300

Working Class
9am-9pm Daily | Takeout, UberEats, Doordash & Postmates | 619-642-0114
Young Hickory
Tue – Fri: 8am-Noon + 4-6pm, Sat & Sun: 8am-Noon | coffee and beer available to-go and/or through window service
Other North Park Businesses
A7D Creative Group
Available per project basis (design, social media communications, printing + web) | [email protected] | 619.574.6878

Artelexia
Please visit online store

Art Produce
Virtual tours of our Artists in Residence! Click here to Check out Amanda Kachadoorian. Click here to check out Sofia Gonzalez! SAVE THE DATE for our 2020 community art classes: April 18th through August 29th. Click here for more info | We have uploaded drawings by local artists to our online Community Coloring Book.

Boundless Womens Gym
Offers Live Streaming Classes Monday – Friday 5:30am-8am; 4:30pm-7pm Saturday's 7am-10am. | 619-326-9727
Club Pilates
Facebook Live Pilates classes happening daily. Click here for the schedule.
Dexter's Deli
Curbside pickup and home delivery
Dr Chinn's
3/19 – 3/30 CLOSED | For eye emergencies or contact lens orders, you can contact [email protected]

F45 North Park
Studio is CLOSED | Offering work outs via Instagram
Fresh Yard
Fun Pole Fitness
Live streaming classes | Monday-Friday 6pm to 8:15pm and Saturday 12 pm to 2:15pm
Gallery AKA
Hello Birdie
Gift cards available | Click here
Home + Hound
Gift cards available | Click here
Mimi and Red
My Point Credit Union
Open Monday – Friday from 7 am to 6 pm, and Saturday from 9 am to 4 pm | 888-495-3400

Overload
Closed | Operating online
Paw Pleasers
10am 5pm daily | Curbside pickup available

Pet Me Please
Open for email ordering and curbside pickup
Pigment
Pilgrimage Yoga
Please visit website for live streaming schedule | Click here for website
Presley & Co. Fine Jewelers
Set up a virtual appointment for jewelry and watches | Customers can email [email protected] or call 619-255-1149.

Pura Buena Onda
30 for 30 Spanish Challenge | Contact 619-916-8339 or email [email protected]
San Diego Credit Union
Open M-Th 9-5; Fri 9-6; Sat 9-4 |(877) 732-2848

Shop Good
Touchless curbside pickup available during select hours by phone-in or online order | Free shipping with online ordersClick here for more info. For Virtual Skin Appointments, click here
Simply Local
SK Fitness
We are now offering online personal training! Follow us on our youtube channel to get your free workouts in or email us at [email protected] to request information on online training
The Girl Can't Help It
---
North Park Main Street (NPMS) is dedicated to supporting the interests of small businesses. NPMS is a Business Improvement District (BID), and one of 17 that exist throughout the City of San Diego. Each BID represents a specific area determined by boundaries where each business pays an annual assessment as a member. The boundaries are created by a vote of the businesses and the services provided are limited to those businesses who are within the boundaries. Our efforts at NPMS are 1) to support small business 2) offer benefits to those businesses within our district boundaries 3) create an awareness of the greater North Park area that will serve the entire City of San Diego.