North Park, San Diego, CA – The heart of North Park is beating stronger than ever, and there's no better way to experience the vibrant pulse of our community than by joining us for the 2023 Taste of North Park, proudly brought to you by US Bank.
There is more to North Park than just the intersection of 30th  & University. To help you explore the neighborhood, we are hosting three check ins. You can get your day started in the southern portion at Haven (3381 30th Street), the western portion at Louisiana Purchase (2305 University Ave) or right in the center at the North Park Mini Park (3812 29th Street). Each area of North Park has a slightly different vibe and energy. We encourage you to explore our neighborhood from end to end and find your favorite area!
This annual event has become a cherished tradition for both locals and visitors, and this year, we're making it even more special by focusing on three key elements: sustainability, community, and celebrating our resilient small business community.
Click here to learn more about the event (url: https://www.tixr.com/groups/tasteofnorthpark/events/taste-of-north-park-2023-75789)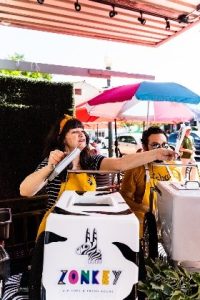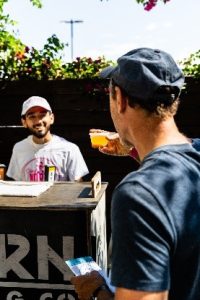 Sustainability: A Commitment to a Greener Future
North Park is not just a community; it's a home we all share. To honor our beautiful neighborhood, we're taking steps to reduce our environmental impact. This year, we're thrilled to introduce reusable tumbler cups, generously sponsored by Diamond Parking, and reusable sporks from our community sponsor, Walkabout. These eco-friendly initiatives will help minimize waste and promote a more sustainable way of enjoying our delicious bites and sips.
Additionally, to reduce our carbon footprint and make it easier for everyone to explore our vibrant community, we're introducing neighborhood electric vehicles (NEVs) to shuttle people around North Park. These NEVs represent a small yet impactful step towards a greener future and will help connect people across the last mile of their journeys.
In alignment with our sustainability efforts, our event coincides with Clean Air Day California. We invite our neighbors, businesses, and organizations to join us in pledging to take steps to improve our air quality. It's a collective effort to ensure that North Park remains a breath of fresh air in our fine city.
Community: Bringing North Park Together
North Park is known for its eclectic mix of boutiques, brewers, and restaurants, but it's our sense of community that truly sets us apart. This year, we're excited to involve the Sisters of Saint James to help connect our community in engaging and unique ways. Their presence will add an extra layer of warmth and camaraderie to our event.
Furthermore, we're launching a food drive in partnership with the San Diego Food Bank. We understand how fortunate we are to have an abundance of food and drink options in our neighborhood. This event provides us with an opportunity to give back and drive donations for a truly impactful organization. Together, we can make a significant difference in the lives of those less fortunate.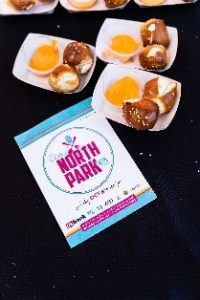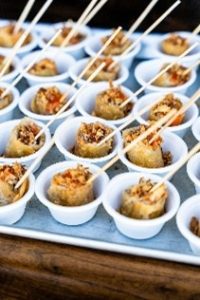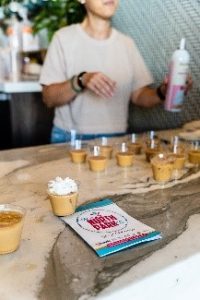 Small Business Community: The Heartbeat of North Park
Our small business community is the lifeblood of North Park. While we've faced challenges over the past year, our community's resilience shines brighter than ever. We're excited to showcase the exciting places that have come to life in our community, thanks to the dedication of our business leaders and the unwavering support of our residents.
This event is a celebration of these businesses, both the well-established stalwarts and the dynamic newcomers. It's a fantastic opportunity to experience the rich tapestry of entrepreneurship that defines North Park.
The 2023 Taste of North Park promises to be a day filled with delicious food, refreshing drinks, and unforgettable community spirit. We invite you to join us in celebrating sustainability, connecting with our community, and supporting our incredible small businesses. North Park continues to thrive, thanks to the dedication and passion of every individual who calls this neighborhood home. Together, we're creating a brighter and more vibrant future for North Park and all its residents. See you at the Taste of North Park!