JOIN THE EFFORT TO KEEP NORTH PARK CLEAN, BRIGHT AND VIBRANT
What is the North Park Special Enhancement District?
Please help continue our progress in improving North Park!
For the last 4 years, the North Park Property and Business Improvement District (NPPBID) has been the collective voice of property owners, businesses and advocates who strive to make our part of North Park a safe, vibrant and desirable place to do business. The non-profit NPPBID has carried out a vast array of additional services that have provided North Park with cleaner streets, reductions in crime, homeless outreach, and beautification. Since we began we have benefited our community, and now we want to continue the work we started!
The North Park PBID is scheduled to expire in December 2022. North Park Main Street is leading the effort in representing North Park property owners in the formation of a new district called the North Park Special Enhancement District (NPSED) that will continue the same great services.
How Does It Benefit Our Community?
• Assessment districts are a leading tool used to combat urban blight, promote economic opportunities, and create clean and safe environments.
• Cleaner, safer neighborhoods attract more people and activity which, in turn, increases rents and property values, and business opportunities.
• Customers and residents feel more comfortable and safe within assessment districts that have less obvious signs of litter, graffiti, and abandoned cars.
• Areas that have successfully implemented assessment districts attract a larger number of non-residential visitors and tourists.
• Assessment districts have been important tools in preventing economic decline in specific districts and transforming older areas into new opportunities for investment.
• A stronger sense of place that accompanies cleaner streets encourages patronage and has increasingly positive repercussions in assessment districts' areas.
• Businesses consider quality-of-life issues to be more important factors in choosing a location than they do tax rates and real-estate prices.
• Areas with assessment districts experience greater, on average, yearly reductions in the number of robberies, violence, and total crimes than non-assessment areas.
• Assessment districts in the City of Los Angeles were associated with a 6 to 10 percent reduction in official crime rates.
How to Help the Formation of the North Park Special Enhancement District
The current term for the North Park PBID expires in 2022! This brings about the need to recommit to pooling resources to provide services for another term. This work starts now. The process includes opportunities for you to share your input on what services are valuable to you. Help us continue promoting the economic vitality of North Park, as San Diego's corridor for commerce and community. We want to hear from you. Please look below for ways to stay informed.
• Attend our community outreach meetings.
• Sign up for the newsletter here.
• Fill out the survey below. This survey is an important part of making sure we provide services that reflect the needs of our property and business owners.
Proposed Services
The proposed services that would be provided by the NPSED are above and beyond the City of San Diego's baseline services. These proposed services will include: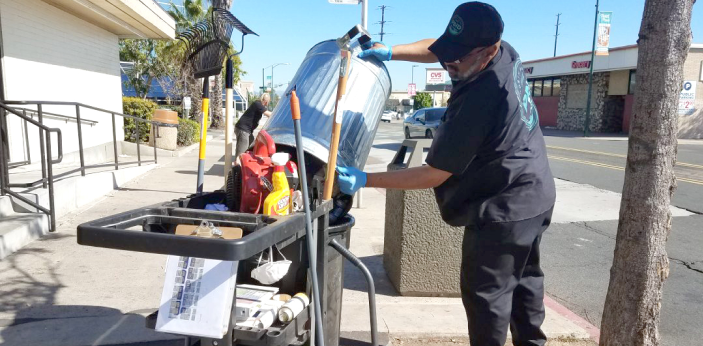 Sanitation
The sanitation program will provide various services throughout the District such as:
• Street, sidewalk, curb & gutter cleaning;
• Graffiti and sticker removal for public spaces;
• Urine & feces removal;
• Emptying of common area garbage cans adjacent to assessed parcels to improve sanitation to assessed parcels;
• Collection of litter, including dumping of large items in public right of way; and maintaining new medians.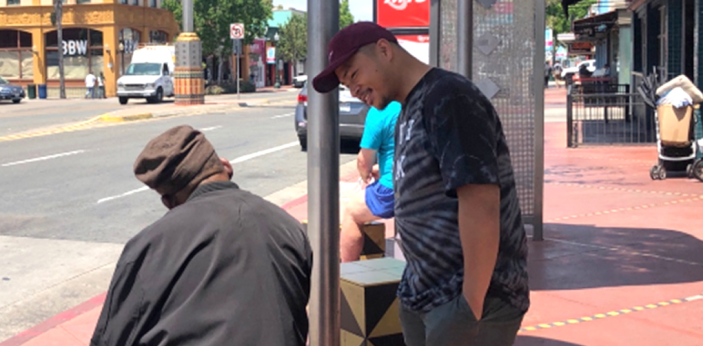 Security/Safety and Homelessness Outreach
Enhanced security services are needed to keep the District a safer place for patrons, employees, residents, and visitors. Security and safety programs may include but are not limited to: 
• Contracting with private security firms; and
• Working with the service providers to provide the homeless with resources to emergency shelters, permanent housing, and mental/physical health care.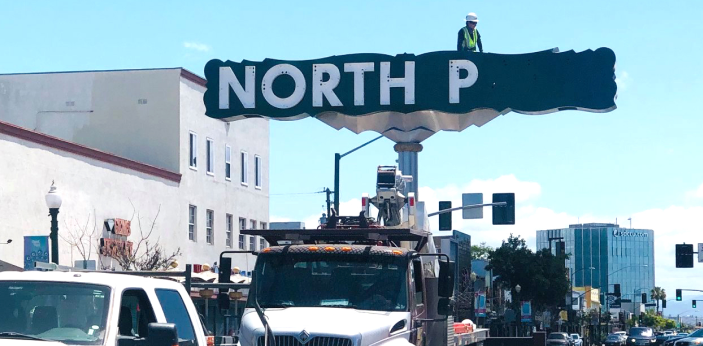 Improvements & Economic Development
Improvements will be installed throughout the new district formation in an effort to beautify and improve access to parcels.
• Lighting facilities;
• Signs and/or banners;
• Promotions and Marketing;
• Kiosks or display cases;
• Wayfinding;
• Landscaping;
• Seasonal plantings and planters; and
• Decorations. Economic development efforts, including retail retention and recruitment efforts are exclusively aimed at attracting business prospects looking to locate in North Park. Marketing and promotion of tourism within the district will also be conducted.
Testimonials
"My wife and I walk every morning and see the PBID team out working just about every day. We walk very early so we frequently can see the before and after and, believe me, there's a huge difference. Neighborhoods don't clean themselves, they don't manage themselves either. It's great to see North Park being taken care of in such a professional way." – Michael Garrison, North Park Resident 
"The NPPBID has been a great addition to the community of North Park. We appreciate all the work they do and we love working with them by unifying and beautifying the community." – David Gamboa, President of A7D Creative Group
"The NPPBID has immediately made a difference for us, both in terms of the quality of the work being done and the communication process we are experiencing with the team." – C. Patrick Cowan, KZ Companies, LLC
"I'm really happy with the NPPBID, we are already seeing needed changes and the community is excited. Looking forward to the future of NPPBID." – Steve Blasingham, Tamarindo Latin Kitchen & Bar
Who Will Manage the Funds?
The assessments will be collected from property owners with their property taxes. The county will forward them to the city. The city cannot keep the funds for its own purposes, the funds will be used on assessment district services that benefit the property owners.
The city will forward the funds to North Park Main Street, which will be responsible for implementing the program with oversight from the City's Economic Development Department.
How We Will Use Our Budget

Meet Our Crew
Our Maintenance Ambassador Team is here on call to resolve district beautification issues. To report an issue, contact Freddie Carruthers at 619-866-2188 or email the team at [email protected]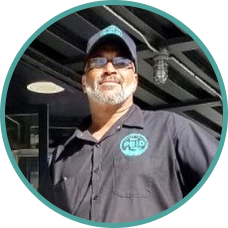 Freddie Carruthers
Maintenance Manager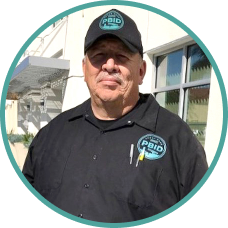 Sergio Carranza
Maintenance Ambassador
How to Get Involved
North Park Main Street hosts monthly meetings. These meetings will form the foundation for important NPSED projects, policies, and decisions! All are welcome to attend:
BOARD OF DIRECTORS MEETINGS
Meetings are held every second Thursday of each month at 9:00 am. Monthly business, financials of the organization, community reports, and committee updates are given at each meeting. Check the website agenda for the Zoom link.
COMMUNITY OUTREACH MEETINGS
The passcode for all Zoom meetings is "northpark".
History of the NPPBID
2015-2017
North Park Main Street began working with property owners to explore the formation of the North Park PBID.
July 2017
The North Park PBID is officially formed with over 70% of assessed parcels voting in favor of the project.
2018
The NPPBID begins implementation of improvements, maintenance and activities which are tailored to meet the specific needs of assessed properties within the PBID.
2018 – Current
Daily sidewalk sweeping, trash and debris removal, landscaping, graffiti removal, and sidewalk pressure washing occurs throughout the district resulting in a cleaner, safer and more vibrant business district.
2019
• North Park Main Street & the NPPBID collaborate on a pilot program to address an increasing unsheltered population -the program permanently housed 47 individuals.
• The NPPBID collected over 89 tons of trash, eliminated 530 graffiti tags and disposed of 230 feces within the public right of way.
2020
Explore North Park, NPPBID's marketing campaign designed to promote North Park as a destination for locals and travelers, hit a record 63,000 followers on Instagram.
2021
North Park Main Street is looking to continue the additional services that the District provides with the Assessment District that was voted into place by property owners in 2018. These efforts require property owners to vote on the formation of a new assessment district. Votes are weighted by assessments paid.
June 14 – City Council
Declare intent to order the formation of the North Park MAD (NPSED)
Preliminarily approve the District Management Plan & Assessment Engineer's Report
Authorize the mailing of ballots to all property owners subject to assessment
Set August 1, 2022, as the noticed public hearing date to count ballots
August 1 – City Council (Public Hearing)
Authorize ballot tabulation and take public testimony
Form the NPSED including actions related the District Management Plan & Assessment Engineer's Report
Authorize CFO to manage the assessment revenues
Authorize the CFO to manually bill and collect assessments
Authorize the CFO to expend $13,620.80 from the City's General Fund for City-owned parcels