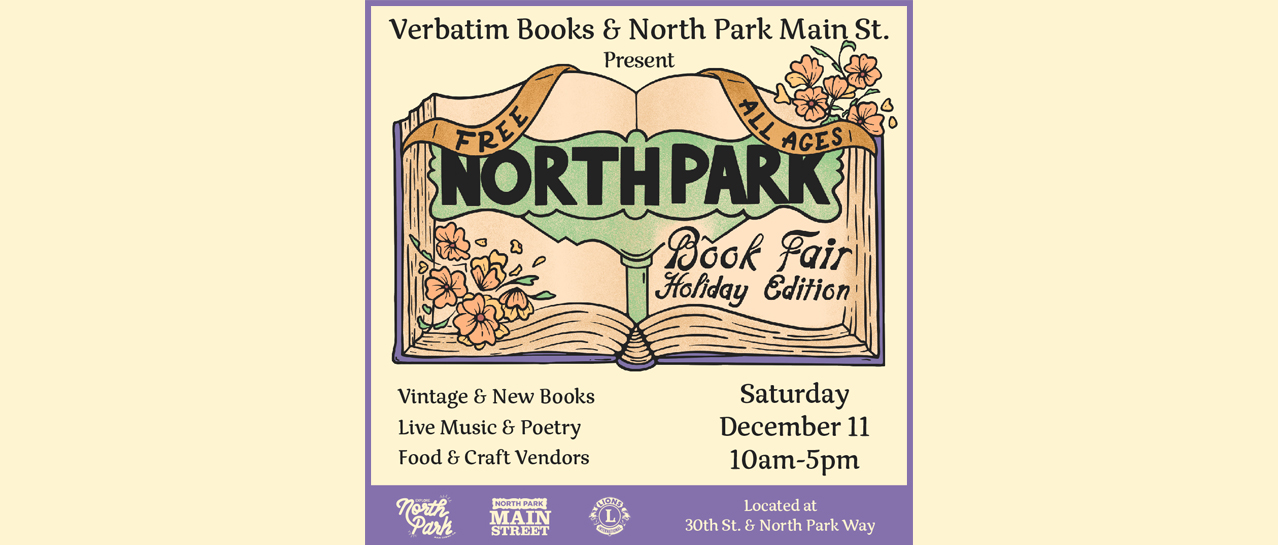 North Park Book Fair Holiday Edition
Seasons Readings!
100+ local vendors make holiday shopping easy for book lovers
Do you enjoy giving loved ones the perfect holiday gift, but hate the slog of driving to a dozen different shopping centers?
North Park Main Street and Verbatim Books just made the season a little brighter with its holiday book fair, featuring 100+ vendors offering books, original art, specialty gifts and more!
This fun and free, family-friendly event will include tasty offerings from local restaurants, music from local bands, and live poetry and spoken word performed by San Diego artists.  The little ones will enjoy crafts, story time – and a visit with Santa!
"North Park hosted its first book fair in July and were delighted by the feedback," says Angela Landsberg, executive director of North Park Main Street. "San Diego is a city that loves to read and understands the importance of supporting local businesses. We are so grateful that our community asked us to host another book fair for the holidays."
North Park Main Street and its partners invite you to book your day at the North Park Book Fair on Saturday December 11 from 10 am – 5 pm at North Park Way and 30th Street.
10am-12pm: Kids storytimes and activities with author Joy Francisco, author Marcie Colleen, Joyride Bookshop, Santa and the Book Fairy, and more!
12-1pm: Adam Gnade LIVE
1-2 pm: So Say We All curated readings
2-4 pm: Open-mic poetry hosted by Little Blue
4-5pm: Hopefully a dance party of some sort
Participating Breweries + Locations:
Helia Brewing Co – ADU Geeks
Bivouac Ciderworks – Union Cowork
Original 40 Brewing Co- Day to Day Vintage
Mike Hess Brewing – Matte BLVCK
Second Chance Beer Co – Barre Studio
Burgeon Beer Company – Speakeasy Clothing Co
North Park Beer Company – Mila
RIP Current Brewing Company – Aka
Kairoa Brewing Co. – Paw Pleasers
WestBrew – San Diego Explicit Barbershop
Rouleur Brewing Company – Pigment
JuneShine Hard Kombucha – Revival Vintage Eyeware
Jaybird Kombucha – Home and Hound
Participating Restaurants:
Tabu Shabu
Parabola Coffee
Eggies
MetlBar Creamery & Cafe
Pretzels & Pints
Working Class
Holsem Coffee
Young Hickory
Atypical Waffle
Brothers Mexican Restaurant
Swami's Cafe North Park
Gelati & Peccati
Son of a Toast
North Park Beer Company
Encontro North Park
Bivouac Ciderworks
North Park Sushi
Verbena Kitchen
City Tacos
One Door North
The Smoking Goat
Original 40 Brewing
Hammond's Gourmet Ice Cream
North Park Creamery
Siamo Napoli
Shank & Bone
Lucha Libre Taco Ship
Dunedin New Zealand Eats
MAKE Projects
Deja Brew Lounge
Northside Shack
Cori Pastificio Trattoria
West Coast Tavern
Senor Mangos
Crazee Burger 
True North